HealthMark estimates the default risk for over 100 million private companies globally based on the best available data. It is calibrated using financial data, and FHR data which is exclusive to RapidRatings.
Introduction
The updated HealthMark model, released in 2023, is calibrated to leverage the unique access RapidRatings has into global supply chains across all industries. The improvements to data quality provide enhanced data-depth We use robust financial data trends to predict which suppliers within your supply chain have the highest probability of being in financial distress, which could lead to disruption.
Using HealthMark and FHR
Where the FHR provides the market's most accurate indicator of financial risk, HealthMark helps risk professionals to triage risk with immediate access to a comprehensive database of HealthMarks, most useful for suppliers which have not yet made their financial statements available, or where the relationship does not warrant the investment of a full review.
Model Enhancements
The 2023 enhancements to HealthMark incorporate feedback from many of the world's most sophisticated supply chain management teams. The significant advancement of modeling intelligence comes from the introduction of two new modelling elements:
Rolling Financial Data Refreshes: Underlying FHR data is frequently refreshed to capture current market trends. This measure is a leading indicator of risk hotspots within your supply chain.
Greater Profiling Specificity: Data is now aggregated for cohorts representing a cross section of country and sector (country-sector cohort). Greater specificity provides improved accuracy.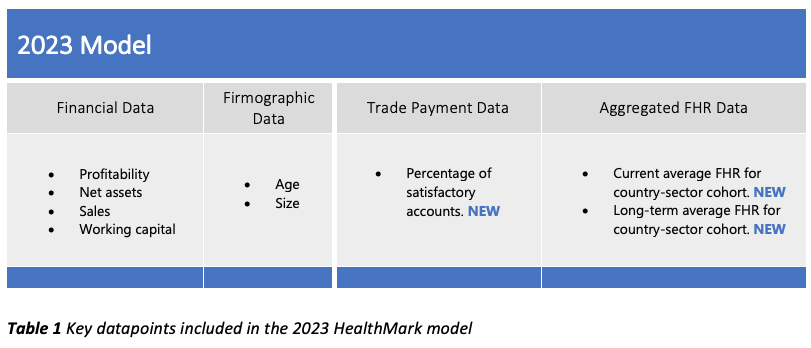 New Data Points
The introduction of new data points improves accuracy and all HealthMarks will have adequate or substantial data depth with the category limited data depth being phased out by Q3 2023.
Aggregated FHR Data
'Current average FHR' for the country-sector cohort is highly correlated with the probability of a given supplier from that cohort being high risk
'Long-term average FHR' for the country-sector cohort provides a baseline indicator of risk.
Trade Payment Data
Percentage of Satisfactory Accounts is used to identify extreme levels of payment distress, which are associated with higher probabilities of financial distress.
When less than 30% of accounts are reported as satisfactory, the HealthMark is reduced by 2 notches. This intervention only occurs in 3% of cases.
Performance Testing
The enhanced model delivers stronger risk classification performance by flagging significantly fewer entities for risk mitigation and improving the overall accuracy rate.
HealthMarks are expressed on a 1-5 scale which corresponds to the same Risk Levels as FHRs.
The new model reduces the number of high-risk flags by 41% raised while delivering a 12% higher accuracy rate
The number of high-risk HealthMarks (1 or 2) decreases from 26% to 16%
The number of HealthMarks aligned correctly with high risk threshold increases from 68% to 76%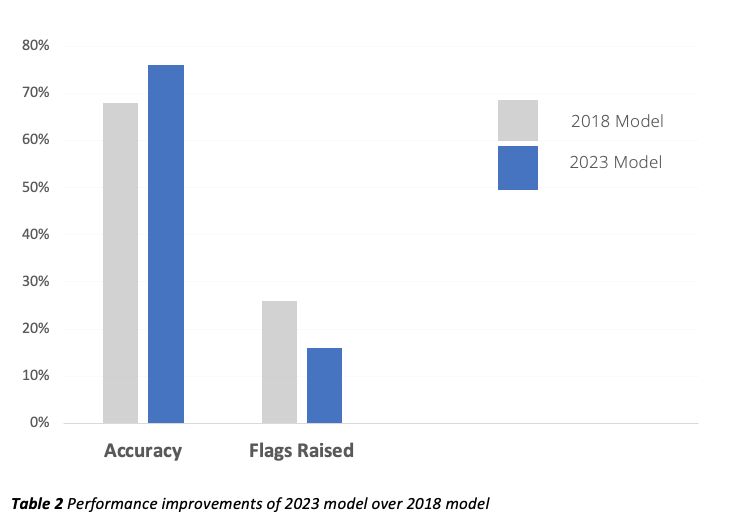 HealthMark Scale
HealthMarks are expressed on a 1-5 scale which corresponds to the same Risk Levels as FHRs.

Data Depth
Data depth indicates the level of data used when calculating the score. This conveys a level of confidence in the resulting HealthMark.
Full financial statements can produce a full FHR. This provides the most accurate measurement of financial health and default risk. When full financial statements are unavailable, we classify data depth as Substantial or Adequate. With this new model the Limited data depth will be eliminated completely by Q3 2023.
| | | | |
| --- | --- | --- | --- |
| Data Depth | Primary Data Sources | Typical Region | What it Means |
| Substantial | Selected financial data such as sales, profit, equity and working capital. | UK, France, Germany, Italy, Belgium, Netherlands, Ireland, Norway, Sweden | Marks with this data are generally reliable, although the financial data is likely aged so some caution is necessary |
| Adequate | FHR Dataset, Firmographic data (country, age, size), Trade payment data where over 120 days | USA and Rest of World | Marks with this level of data provide an indication of business viability, but a full FHR is recommended for critical counterparties. |
Impact on Your Portfolio
The 2023 model has a greater classification accuracy and is capable of more effectively allocating suppliers across the full range of risk categories. The risk distributions below show two primary characteristics:
Representation in all five risk categories, from very low risk to very high risk
Significantly fewer high risk ratings
Risk Transitions
Table 4 shows the extent of change you should expect to see in your portfolios between the 2018 model and the enhanced 2023 model. Most of the HealthMarks remain unchanged (67%) or are upgraded to lower risk (22%). However, 11% companies have their HealthMark adjusted downwards and are now higher risk.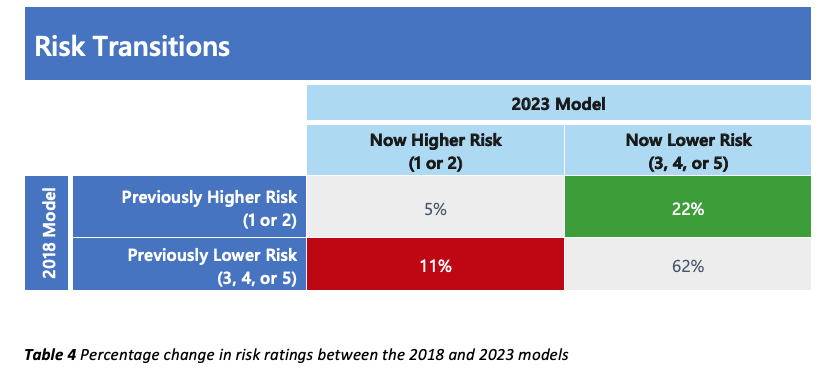 Coverage Area
The new methodology consolidates data from multiple providers to deliver global coverage, with strong representation in the key regions of North America, Europe and Asia. We currently provide HealthMarks for 100 million companies.

More About HealthMark Enhancements
If you have any questions about the HealthMark enhancements please reach out to your Customer Success Manager who will be happy to help you further.