HealthMarks are currently being rolled out across our client base. For more information, please contact your Account Manager or Client Service Manager.
Increasing Transparency With Limited Data
HealthMark predicts a company's default risk by estimating its FHR based on available data. RapidRatings has full financial data and associated FHRs for thousands of private companies around the world, and across all industries. We can use these observations to calibrate a model which predicts the FHR for the millions of cases where the full financial data is unavailable.
Taking limited available information from multiple sources, we utilize several models to estimate default risk.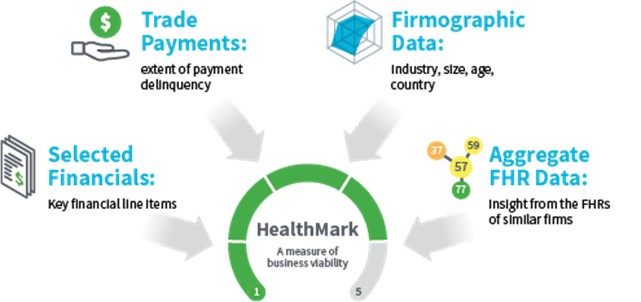 Performance Testing
HealthMarks show approximately 75-80% alignment with the Risk Level associated with an FHR based on full financial data, with variations across region and data availability. Within the US, we see the bottom 20% of the universe covers 57% of defaulters within 12 months.
The HealthMark Scale
HealthMarks are expressed on a 1-5 scale which corresponds to the same Risk Levels as FHRs.

Depth of Data
Data depth indicates the level of data used when calculating the score. This conveys a level of confidence in the resulting HealthMark.
Full financial statements can produce a full FHR. This provides the most accurate measurement of financial health and default risk. When full financial statements are unavailable, we classify data depth as Substantial, Adequate or Limited.
| | | | |
| --- | --- | --- | --- |
| Data Depth | Primary Data Type | Typical for companies from | What it means |
| Substantial | Selected financial data, such as sales, profit, equity and working capital | UK, France, Germany, Italy, Belgium, Netherlands, Ireland, Norway, Sweden | Marks with this data are generally reliable, although the financial data is likely aged, so some caution is necessary. |
| Adequate | Trade payment data | USA | Marks with this level of data provide an indication of business viability, but a full FHR is recommended for critical counterparties. |
| Limited | Firmographic data (sales, employee count, age, industry, country) | The rest of the world at varying levels of coverage. | Marks with Limited data provide a temporary indicator of risk, but a full FHR is recommended when possible. |
Coverage Area
We consolidate data from multiple providers to deliver near global coverage, with strong representation in the key regions of North America, Europe and Asia.
We currently provide HealthMarks for 150 million companies. Phase 1 of our coverage expansion includes key countries such as US, Canada, UK, Germany, France and China, plus others. Phase 2 will expand to cover most of the world and is scheduled for Q2 2019.