HealthMark Alerts have recently been activated across our client base. For more information, please contact your Account Manager or Client Service Manager.
An Easier Way To Monitor Your Suppliers' HealthMarks
Our comprehensive HealthMark coverage is being regularly updated with financial data, trade payment data, firmographic data and insights we can draw from our private company FHR database.
With HealthMark Alerts, you can see a vital overview of your My HealthMarks List, delivered to your inbox every month, enabling the prioritization and analysis of the things that matter most to your business.
Once a User has companies populated in their My HealthMarks List, alerts will be generated on a monthly frequency as we update our data, ensuring that you're able to act quickly and further analyse any at-risk suppliers.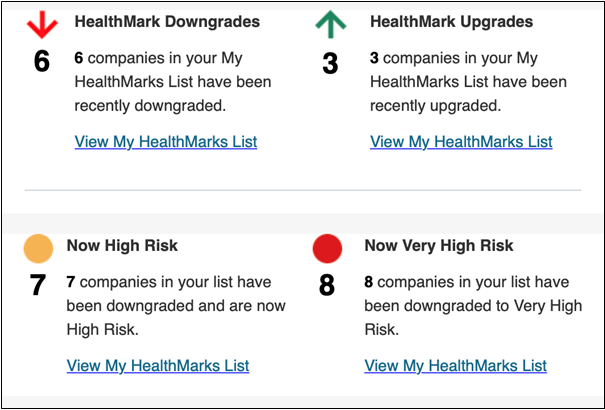 The alerts are controlled in your My HealthMarks List and can be switched on and off in the Alert Settings. Companies can be removed in bulk or individually.