AeroCentury Corp leases aircraft and aircraft engines to transportation companies in North America, Europe, Africa, Asia and Australia. The company filed for bankruptcy protection on 3/29/2021 with an FHR of 26. The publicly traded company listed assets of $121 million and debt of almost $125 million as of its latest SEC filing. The company was particularly exposed to COVID downturns in air travel, but the low FHR showed the company had poor foundations which were insufficient to ride through the market volatility.
FHR at time of default: 26, High Risk
What The Ratings Tell You
The company's FHR of 26 is in the bottom half of the High Risk category (FHRs between 20-39), and well below the sector average of 60.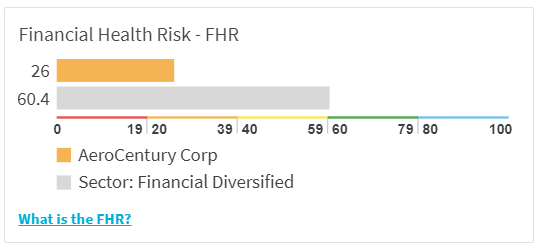 Where Our Analysis Tells The Story
The reports highlight continuing deterioration in several areas. In particular, Table 5 shows poor performance in all four of the credit ratios listed.

A Debt to Assets ratio of 96% and negative EBITDA are telling signs.