Bristow Group filed for bankruptcy May 11, 2019, with a Financial Health Rating of 32, High Risk. Bristow Group offers helicopter transportation to offshore oil and gas drillers, search and rescue, and aircraft support services to the government and civil organizations worldwide.
FHR at default; 32, High Risk
What the ratings tell you.
As shown below in the Risk Trend Analysis, Bristow Group's FHR has been trending down since 2014 and remained High Risk since 2017, signaling the need for risk mitigation.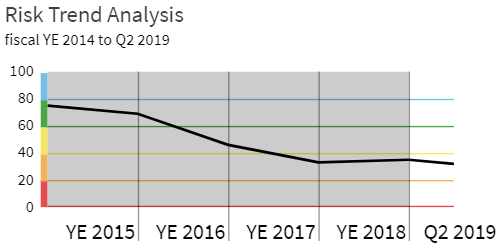 To put this in perspective, the Transportation Sector has an FHR of 59, on the healthier end of Medium Risk. The Transportation Sector is also located in Quadrant A, meaning Bristow Group's peers are well positioned from a short-term and medium-term outlook. Bristow Group is placed in Quadrant C, which is the riskiest.

Where our analysis tells the story.
Bristow Group has shown considerable underperformance in many metrics, which clients can see in the company's Peer Benchmark Report.
Our analysis showed Bristow group has struggled with Operating Profitability and Net Profitability which played a significant role in their declining Core Health Score. Operating Profit is the return generated after core business expenses are paid. Having enough Operating Profit enables a company to pay for non-operating expenses, such as debt or interest without having to dip into capital. The Earning Measures Table below shows how Bristow Group was operating at a loss and how their margins continued to deteriorate.

With Bristow Group unable to generate sufficient Operating Profit, they were unable to cover their interest and debt grew to $1.45B. The Financial Dialogue prioritizes these items as areas of concern.