Windstream Holdings Inc filed for bankruptcy on February 25, 2019, with a Financial Health Rating (FHR) of 21, High Risk. Windstream Holdings Inc offers telecommunications services to residential and business customers in rural communities in the United States. Windstream's latest statements showed over $5 billion in annual revenues and $10 billion in total assets.
The Windstream bankruptcy is an interesting case. It's a technical default where Aurelius Capital Management filed a lawsuit against Windstream Holdings alleging that Windstream violated a covenant on bonds, rather than an outright debt service default where the company misses a scheduled interest and/or principal payment. That being said, Windstream's Core Health Score and Financial Health Rating have both been declining since 2013. They have been losing residential and business customers to cable and wireless companies for years. So, while this legal ruling caused a Technical Default , the company was already exhibiting weak Financial Health and could have been headed for a debt service default at some point in the future. The analysis from the RapidRatings reports clearly show a company under distress.
FHR at default: 27, High Risk

What the ratings tell you
Windstream Holdings Inc had an FHR of 21, giving the company an Estimated Probability of Default of 9.84%. This is definitely cause for concern. The company had a Core Health Score (CHS) of 21, which shows the company was not operating at an efficient or sustainable level. The picture wasn't always this poor for Windstream. The FHR Report clearly shows the company's decline over time, first entering High Risk in Q3 2017.

Our Quadrant Analysis shows the FHR on the upper axis and the CHS on the left-hand axis. When reviewing this table, you want to see your supplier or vendors in the A category. It is interesting to note the long term trend for Windstream Holdings. This company had migrated from Quadrant A in 2010 – 2013 to Quadrant C at the end of 2017.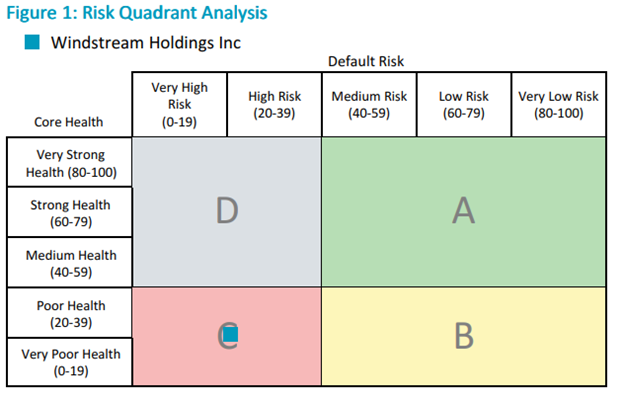 Had you of been accessing our reports for Windstream since they entered High Risk, our Financial Dialogue would have provided clear questions to guide a conversation with Windstream. For example, the report identifies the company's cash position as an area of concern, and suggests the following line of enquiry:
Are you comfortable with this level of cash and do you foresee any trouble having enough cash to meet your obligations over the next 12 months?

Do you have access to additional cash if the need arises?

What are the main components to your current liability balance and are there any components which you do not expect to result in a cash payable which might mitigate any concern?
All of the reports mentioned above can be accessed through Windstream's profile page on our portal.