When dealing with many important suppliers, it can be challenging to rise above the flow of data to spot trends and outliers. Matrix Reports provide an easy and quick review of the information, with color coded data to highlight trends within your portfolio. If you like digging into the data though, this Excel report is for you. Users can sort, search and extract the data to support more complex workflows. If you're not an Excel geek, you probably work with one.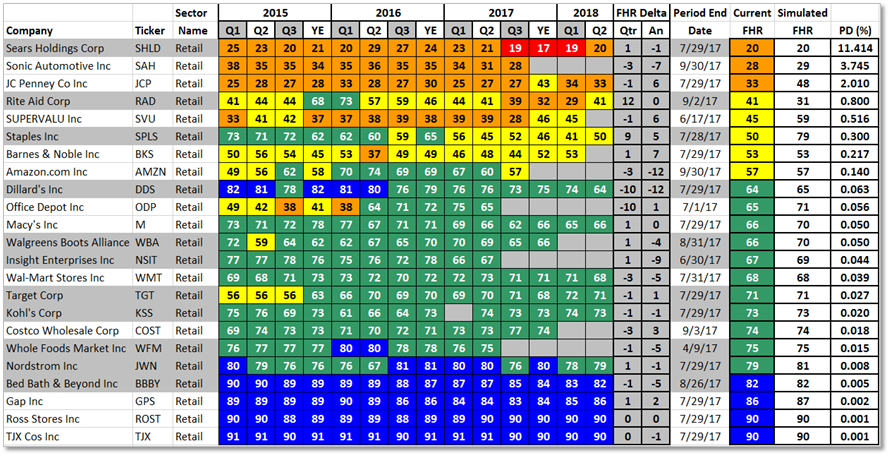 Armed with this report, you can answer such questions as:
Is my category / commodity at risk?

Are too many of my critical vendors high risk?

Should I be making changes to the credit limits I have typically set for this industry?

Is my investment portfolio too low risk, too high risk, or just where I need it to be?
Once you have this bird's eye view, it can sometimes be a daunting task to figure out which areas need your attention. The heat map appearance of the Matrix Report will allow you to easily identify companies by risk level, historical trends, and name or Sector grouping while the Excel functionality allows for slicing, dicing and sorting of data to your needs. From here, you can zero in on the companies that really require your attention.
The Matrix Report is run via the Report Builder section of the Platform. Be sure you've built your portfolio before running!
Some specifics on the report:
The Matrix report details quarterly FHRs when available

It lists companies in three tabs:

FHR data sorted by sector

EPD data sorted by country

CHS data sorted by company name
Once you've run the Matrix report for a portfolio, you can look to some of our company-specific reports such as the Financial Dialogue and FHR Report for further analysis on specific names which stand out.