Approach Resources, a financially distressed oil-and-gas drilling company grappling with a decline in commodity prices, filed for bankruptcy on November 18, 2019, with a Financial Health Rating of 22 (High Risk). Approach Resources will explore alternatives, including restructuring of its balance sheet or the sale of its business. The company will continue to operate during the bankruptcy process.
FHR at time of default: 22, High Risk
What the ratings indicate:
Approach Resources had an FHR of 22 which is at the bottom end of High Risk spectrum, with an Estimated Probability of Default of 8.5%. As shown below in the FHR Trend, Approach Resources has remained High Risk over the past few years, staying below the global sector average signaling the need for risk mitigation.

As seen above, the global energy miscellaneous sector remained steady at a rating of approximately 52 while Approach Resources never achieved that level and in the most recent quarter was trending lower. This was concerning for the continued sustainability for this company.
Where our analysis tells the story:

Approach Resources showed significant weakness in six of our seven performance categories highlighted above, resulting in a High-Risk rating indicating a substantial probability of default within the next twelve months.
We are able to see how Approach Resources had been performing compared to the rest of their sector in our Default Risk Quadrant Analysis. The upper x-axis is default risk/FHR (a measure of default risk in the short term) while the y-axis is the Core Health (which shows medium-term sustainability based on efficiency and competitiveness). The peer group is in the A category. This is the category where financially healthy vendors and suppliers should appear. The C category is problematic and shows companies with low Core Health with a high risk of default in the coming twelve months.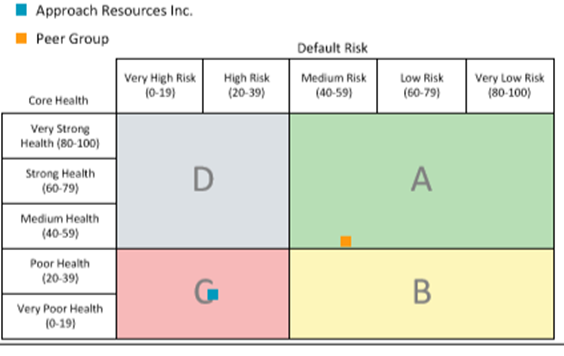 An interesting red flag is illustrated below regarding Approach Resources liability structure. They have shifted from holding only long-term debt to switching to short term funding in order to continue as an ongoing enterprise.

This suggests lenders were not comfortable lending for any length of time and were only comfortable with short term funding. It seems credit analysts also saw issues with Approach Resources ability to stay viable in the near term.
The Financial Dialogue shows five items of concern and will provide questions regarding each concern that is important to discuss with your supplier. The Financial Dialogue is most effective when used in conjunction with our suite of reports (FHR and Peer Benchmark Report) to help with analysis and due diligence. The following is a full site of reports available to access for further information about Approach Resources.