Fred's Inc, a retail chain, filed for bankruptcy September 9, 2019, with a Financial Health Rating of 21, High Risk. Falling victim to the fierce e-commerce competition, Fred's Inc has been shuttering hundreds of unprofitable stores over the past few months. They're now entering the liquidation phase as it's retail locations are expected to close permanently over the next 60 days.
FHR at default; 21, High Risk
What the ratings tell you.
Fred's Inc had an FHR of 21 which is at the bottom end of High Risk, with an Estimated Probability of Default of 9.84%. As shown below in the FHR Trend, Fred's Inc transitioned down from Medium Risk and remained High Risk over the past few years, signaling the need for risk mitigation.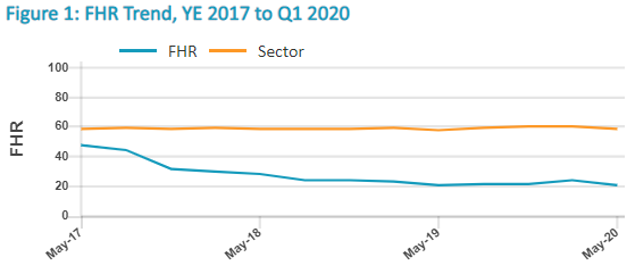 To put this in perspective, we can see the Retail sector has remained steady in the upper end of Medium Risk. Fred's Inc has shown considerable underperformance in many additional metrics, which Clients can see in the company's Peer Benchmark Report.
Where our analysis tells the story.
Our performance scores showed Fred's Inc has struggled with Operating Profitability and Net Profitability, two key foundations of a company's Core Health.

Operating profit is the return generated after core business expenses are paid and having enough operating profit enables a company to pay for non-operating expenses, such as debt or interest without having to dip into capital.

The Earning Measures table above shows how Fred's Inc's operating profit has deteriorated over the past few years. While target margins vary across industries, strong performing companies have an operating profit margin greater than 10% and a net profit margin greater than 5%. Operating at a loss, Fred's Inc was unable to cover any of their interest while peers in the sector typically generate interest coverage of 5x, as shown below.

This is not a good position to be in as liquidity for Fred's Inc was weak for quite some time, meaning they had little ability to survive any short term crises. The Financial Dialogue highlights liabilities to be 36x higher than the available cash as an area of concern. It was only a matter of time before Fred's Inc filed for bankruptcy.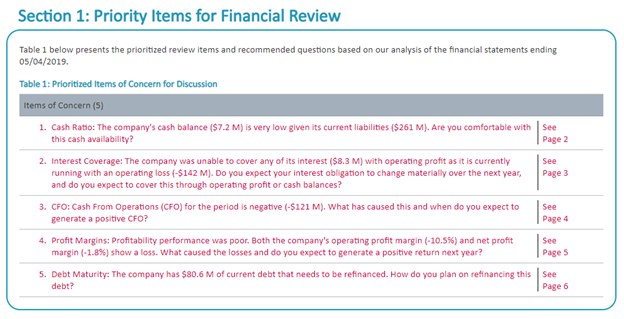 Clients can download our full report suite for Fred's Inc in our portal.