Jones Energy Inc. filed for bankruptcy on April 14, 2019, with a Financial Health Rating (FHR) of 37, High Risk. Jones Energy Inc. is an independent oil and gas company. The Company engages in the development, production, and acquisition of oil and natural gas properties in Texas and Oklahoma.
FHR at default: 37, High Risk
Jones Energy Inc. as an independent oil and gas company, is heavily dependent on the price of oil. Oil was at a high of $129 in April 2011 and traded in a range of $89-$120 until June of 2014. This historically high trading range for oil over 3+ years helped Jones Energy attain a Low Risk FHR score of 69 in 2014. In July 2014 oil started to decline, breaking out of its trading range, dipping to $58 by the end of 2014 and to a low of $36 in January 2016. Oil companies routinely engage in forward contracts so the impending decline in the second half of 2014 had a negligible impact on the full year 2014 results. However, in the following years, the lower oil prices took its toll on Jones Energy's risk score (FHR) as can been seen below. The Core Health Score (CHS), a metric that analyzes a company's efficiency and competitiveness also shows a steep drop starting in 2015.

What the ratings tell you.
At year end 2018, Jones Energy Inc. had an FHR of 37 which is more than one and a half times below the Oil and Gas Sector of 55.6, giving cause for concern. More troubling, was the CHS of 15 which is further removed from the sector average of 40.1. These scores that are below their peers, especially the CHS, is a clear reason for further analysis of this company's continued solvency.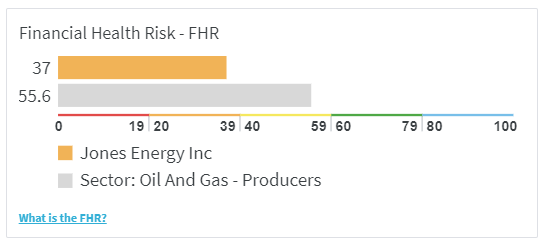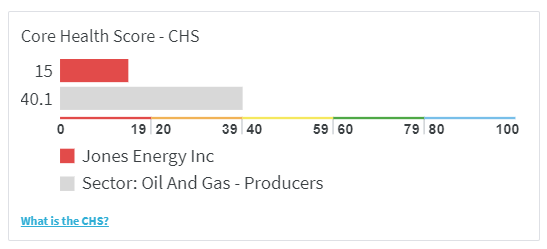 Below is our Quadrant Analysis where we have a timeline for Jones Energy as it passed through the different quadrants. The rating improved in 2014 as oil traded in a tight range ($89-$120 ) that is consider high historically for oil, for approximately 3 years. After that, as oil dropped so did Jones Energy in our Quadrant Analysis. They were in Quadrant B in 2015 and entered Quadrant C in 2016 and stayed there until bankruptcy. Quadrant C points to poor efficiency and high default risk in the next 12 months.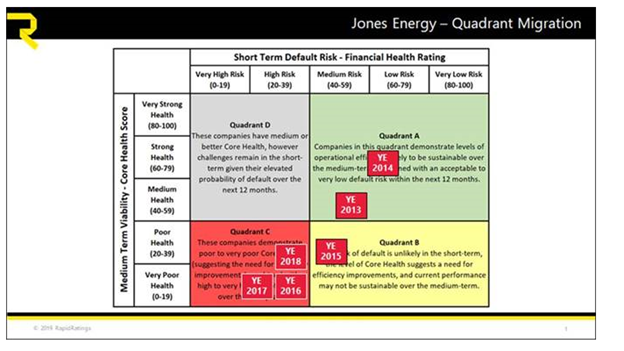 For further analysis, you can use the Financial Dialogue to review the areas that are leading to a low score. The Financial Dialogue highlights areas of strength and weakness for each company and offers questions suitable to start a dialogue with your supplier or vendor. The goal is to help you understand the risk faced by your business.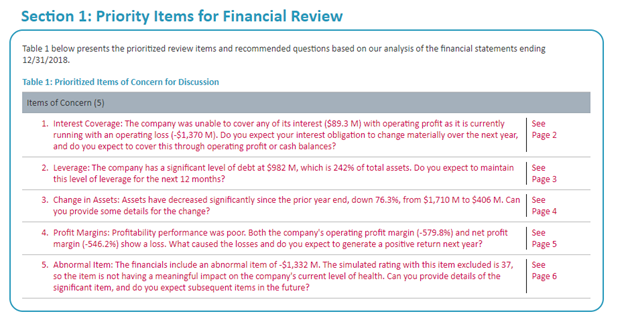 These reports are available for our clients on the Jones Energy page of our portal.