We are delighted to announce we have begun to release HealthMark, an instantaneous and comprehensive measure of business viability. The HealthMark database includes over 150 million companies, world wide.
HealthMarks make risk insight immediately available to support time sensitive workflows
HealthMarks will make risk insight immediately available when needed for time sensitive workflows, enabling more effective risk management when source validated financial data is unavailable. This will be particularly relevant for our clients' long tail of counterparties for which they do not have the time or resources to obtain an FHR.
A HealthMark combines available company information (selected financial data, trade payment data, industry, country, size, employee count) with insights drawn from our proprietary FHR database for similar firms, setting us apart from our competition.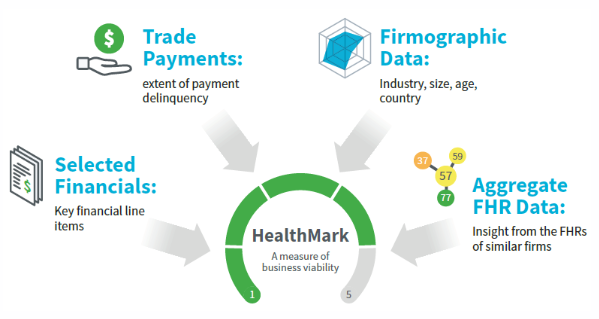 The output is a score between 1 and 5, with each score mapping to our existing Risk Levels (Very High Risk to Very Low Risk). As such, FHRs and HealthMarks will operate within a common risk framework, allowing our clients seamless analysis across their counterparty list.
Further information on HealthMark can be found at What is HealthMark? and HealthMark Methodology.