We're delighted to announce the first release in a major product enhancement initiative intended to help you make better and faster risk management decisions. We believe our FHR and analysis features are cutting edge for our industry, and this first release makes these features easier to access. You might even discover a few you didn't know about!
First, we've improved the navigation pattern, moving from a static, left-hand menu to a dynamic set of new drop-down menus in the top navigation bar. This new layout is easier and more intuitive, and we have organized and named the links to better reflect your daily work, with the goal of helping you accomplish your goals more quickly.
Rating Analysis contains links to the features that will help you perform risk analysis tasks. This includes key pages such as Company Reports and Report Builder.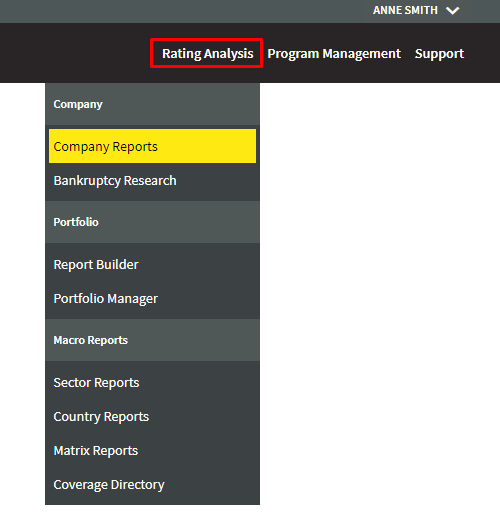 Rating Analysis features help you use ratings to make decisions
Program Management contains features that will help you manage how your organization works with RapidRatings. These features include private company solicitation and data entry activities, and news and rating alerts.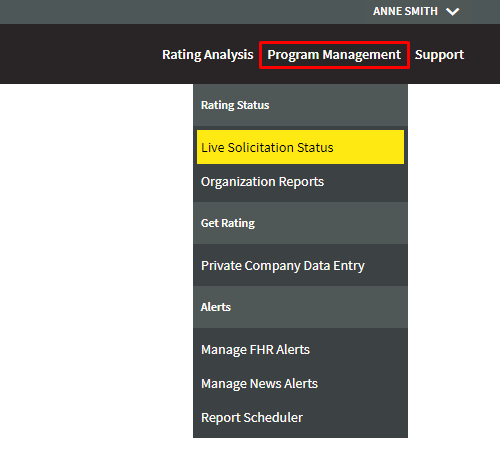 Program Management features help you produce ratings and get them to the right people.
Some of these features may only be relevant for certain team members tasked with program management.
Support contains links to our new Help Center and a Contact Us page.

We've also updated the look and feel of the platform to be more in line with the RapidRatings brand. The new, refined color palette improves effectiveness and better highlights interactive elements.
Secondly, we are also delighted to introduce our Help Center (which you've already found), which houses easily searchable guides and samples to help you optimize your decision making and gain further insight into your counterparties.
Please let us know what you think! We hope you like it, and we're excited to have more releases on the way soon.